The Daily Show Host Trevor Noah Discloses His Next Career Step: "I'm Still Panicked"
Trevor Noah has big plans for his free time when he leaves The Daily Show in December, including a return to his stand-up comedy roots.
The South African comedian made headlines recently for announcing he'd be stepping down from The Daily Show after seven years at the helm. His final show will be Thursday December 8.
He appeared on The Tonight Show Starring Jimmy Fallon on Thursday where he discussed his future, and he also revealed why he decided to leave.
"I think everybody has gone through a period of looking at their lives. Every single person, we were in our apartments for two years, the world changed." Noah told Fallon, "We experienced collective grief. I think if you don't look at your life, and think about what you'd like to do differently, then you haven't experienced what we've all experienced, and so I think this is a joyous thing."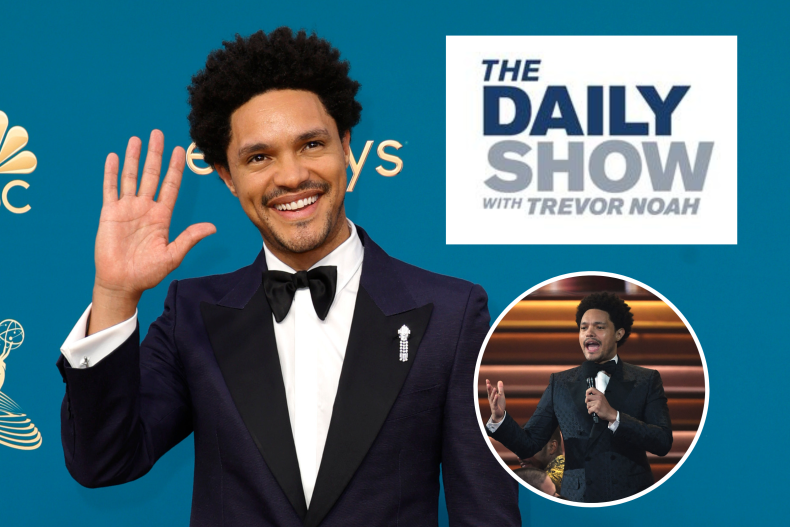 He continued: "I don't take anything for granted anymore. I don't believe that life is a given. I don't assume that things will come to me. And so, I just go 'this is it. This is the time and leave when people say 'why are you leaving?' Because imagine if it was the other way around? I go like 'I'm leaving' and people are like 'yeah.'"
Noah took over hosting duties of The Daily Show in 2015, becoming the third permanent host of the Comedy Central show. His predecessors were Jon Stewart, who hosted for 16 years, and before him Craig Kilborn, who hosted for just 18 months.
The Daily Show usually airs from Monday through to Thursday each week, and at this point, Noah has hosted well over 1,000 shows. He knows how he's going to spend all his upcoming spare time.
"Everything," Noah joked, suggesting he's finally going to get those drumming lessons from Questlove from The Roots. "I'm so excited to do everything. I didn't get to travel as much doing stand-up around the world. I'm excited. I used to go to a country and I would be there for weeks on end, I would learn the parts of the language or learn about the culture and I'd do a show based around. I'm gonna get back to doing that. Producing you know? Like just working behind the camera, working on different ideas. Going back home spending more time with family in South Africa. Everything, is what I'm going to be doing."
Fallon told Noah he's excited to see him get back to doing stand-up regularly, as he could go on to do an arena tour. "I'm going back to the small rooms again because that's where you stop the sets," Noah said, to which Fallon replied he was nervous he couldn't sell out smaller venues. "I'm still nervous," Noah replied.
Noah is expected to host another 28 shows before his run on The Daily Show comes to an end on December 8. Before then he'll be doing a week of shows called The Daily Show Undesked from Atlanta between October 31 and November 3.